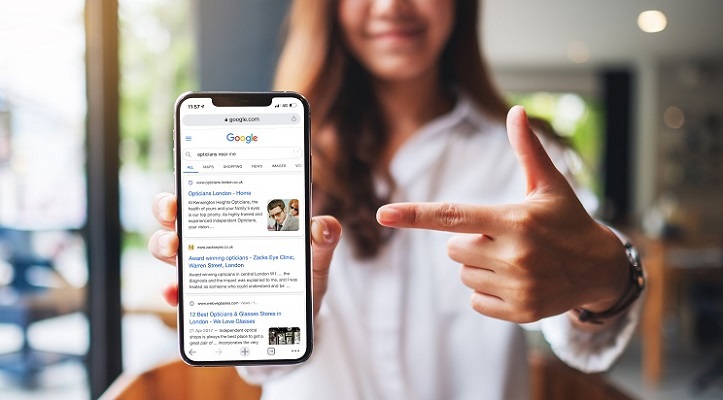 PPC or pay-per-click advertising is a highly effective way to get interested or ready-to-buy customers to visit your website or call your practice for a specific service (eye test, contact lens fitting, OCT exam, etc.) or product.
What exactly is pay-per-click (PPC) advertising? 
PPC is a model of digital marketing in which advertisers pay a fee each time one of their ads is clicked. First, an advert is uploaded to a platform of choice offering the PPC service. There are a number of options including:
Google Ads – (formally Adwords) contains Search, Display, Remarketing, Shopping & Youtube ads.
Bing Ads – Bing offers a similar product offering to Google Ads. However, they have a smaller market share and therefore a smaller audience reach.
Facebook & Instagram – with around 2.7 billion users worldwide, Facebook is a very active place to advertise. Facebook offers display-based adverts and remarketing. They also provide an option to 'Boost' (amplify to other users) content you have posted organically. Instagram (around 1 billion users) is owned by Facebook and shares the same advertising management platform. Ads can be duplicated across both platforms for additional reach.
"Research from Forbes reports that global online content consumption doubled in 2020. The time has come to ensure your practice's digital presence is found."
Then, as the name suggests, you are charged by the advertising platform when someone clicks on your advertisement. Adverts mostly fall into two main categories:
PUSH PPC adverts use targeted topics, interests & placements to reach your target audience. A little bit like an OCT equipment manufacturer might place a print advert on Optometry Today (OT), knowing that the audience that reads OT is interested in the published topics and a well-placed advert might inform or influence a stakeholder to get in touch.
PULL PPC adverts operate based upon the consumer asking a question or "search query". For example, entering 'optician near me' or 'buy glasses online' into the Google search bar. This will then bring back a series of both paid and non-paid results relevant to the search query.
Please note: There are other PPC variations based on views, but these tend to be used for awareness purposes mainly.
Why use PPC when organic search is available?
Organic and paid search work in a similar way. You ask a question (search query) and results based on their relevance to your query are returned. The returns for paid are based on an advertising auction, where the organic results are based on the relevance of content on your website, matching the search query.
Organic ranking takes a considerable amount of time, content and effort to rank highly on search engines. In comparison, paid search can be relatively easily and quickly achieved. Paid search results are only allowed once per website (per category). Competing against big chains with big budgets is achievable. In contrast, top organic search tends to be filled up by bigger budget players.

Figure 1
Paid search will always show above organic listings. On a desktop (PC/Laptop/Tablet), Google will display up to 4 adverts above any organic listings, which means that organic listings get pushed down the page. Having an organic and a paid listing showing on page one of the search is ideal. Being shown twice on a search return builds trust and increases the likelihood of a customer clicking onto your website.
See the example in figure 2. The search term used was 'opticians eye test.' The top three returned listings were all paid ads.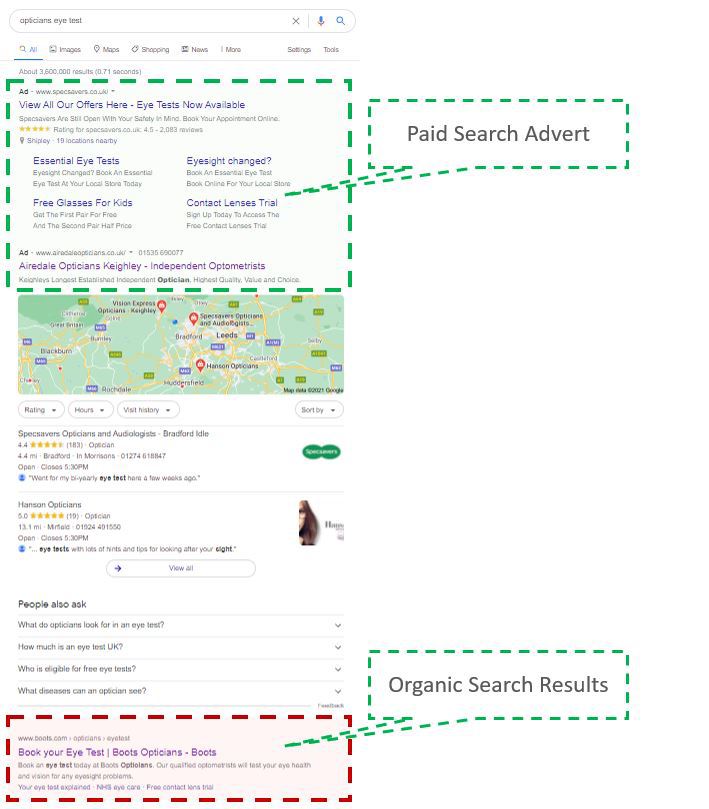 Figure 2
The nature of the ad auction means that independents can compete for a share of the top listings with bigger chains. Because of the nature of pull adverts like Google search, they tend to drive actions such as appointment bookings consistently. Hence why we have focused on this element for a detailed example in figure 3 below.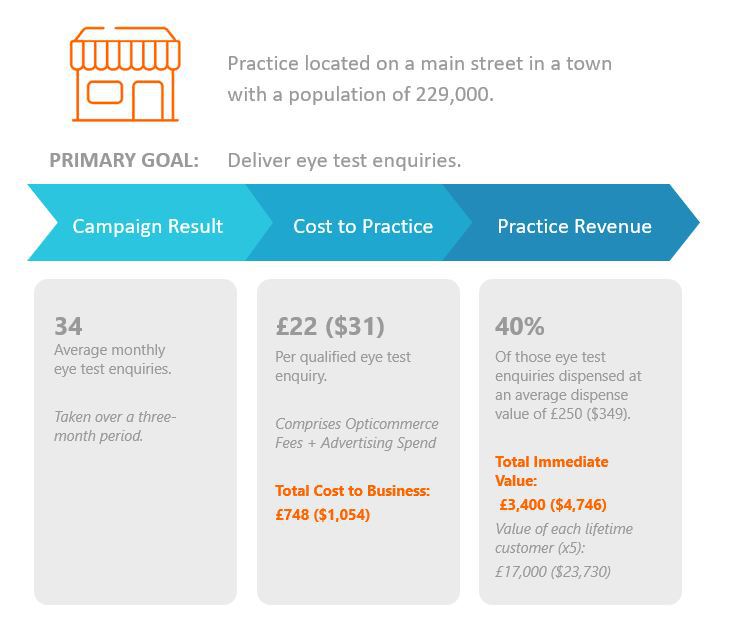 Figure 3
The case above would suggest that pull-based Google search ads are the best at driving engagement in the eyecare sector. In many cases, this is true and this is the logical place to start. But as with any type of marketing, different channels affect responses at different stages of the buying cycle.
Having a balanced marketing plan will have a larger impact than any individual tactic or channel. Look at a 12-month view and review, and try not to think month-to-month.
In the second part of this blog, we'll detail out the customer journey, the importance and real impact of push adverts and how remarketing can help turn "curious clickers" into a customer for life.
If need help setting implementing a PPC strategy for your optical practice or you would like to see more of the services offered by Ocuco's Digital Marketing Team contact us.
Chris Mantle, OptiCommerce Client Marketing Manager
Before Chris joined Ocuco, he used to run his marketing agency and worked for Google for a period. He currently oversees a team of 5 marketing specialists at OptiCommerce, Ocuco's omnichannel branch. His strengths lie in understanding optical patients' digital behaviours and building digital campaigns that drive new customers to optical websites or practices.