What exactly is an eCommerce website
An eCommerce website allows you to sell your products online - from contact lenses and sunglasses, to full prescription spectacles. Your eCommerce website will be designed with optics in mind. Our automatically updated frame catalogues allow you to display high quality images, along with up to date and accurate information on colours/sizes and materials on many frame ranges.
Your practice will be open 24/7, with consumers able to order their glasses/sunglasses or contacts from you, whenever they are ready.
Ecommerce will be the norm for optical practices in the future, get ahead of your competitors now. Reap the rewards of increased sales in 2020 and in the future when your experience will be a huge asset.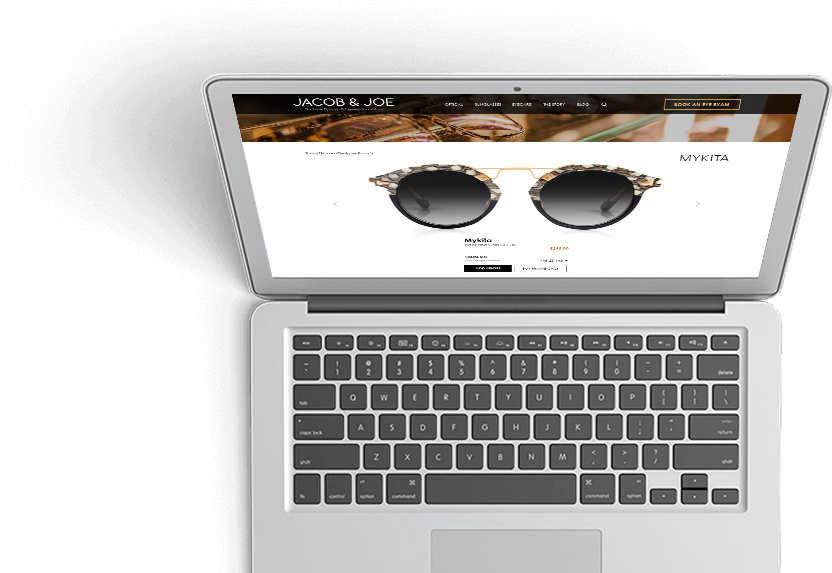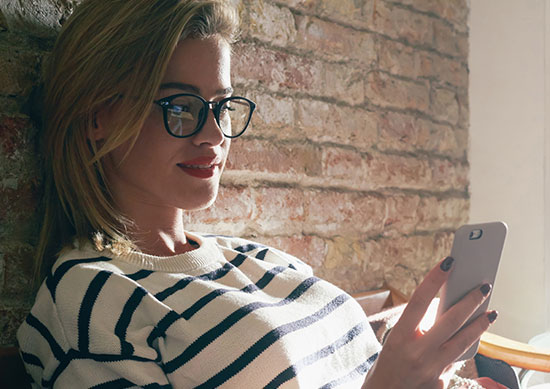 What does a eCommerce website include?
Your eCommerce website allows you to choose full frame catalogues for 5 brands. It will link to the payment gateways of your choice: e.g. Paypal, SagePay, ApplePay, credit card payment etc. Our modular approach allows you to offer any or all of contact lens, sunglasses or full prescription glasses for sale online. Your site can develop, as you're ready to take on the sales.
Our intuitive navigation is designed to increase conversion and reduce drop outs before checkout. Your website will feature eye catching design to showcase your brand and lead browsers to become purchasers.
Is an eCommerce website the right choice for me?
Are you looking towards the future of optics? Do you want to be firmly established online using cutting edge technology to provide safe and expert eye care to your patients?
If the answer to those questions is yes, then an OptiCommerce eCommerce website is the right choice for you. Technological developments continue to develop solutions to historical barriers to online optical purchases. OptiCommerce Add On modules can allow you have a Virtual Try on facility or a PD measurement tool to increase conversion and allow you to make expert sales in an e-commerce environment.
Click and Collect
IN STORE

Which Website Solution is Right for You?
From a single practice website to a fully functional eCommerce business – we have the solution to fit YOU
Brochure
Catalogue
Ecommerce

Fully Mobile Optimised

All images and text will resize and reorder to ensure the site loads quickly on mobile and is easy to read and navigate

Optical Themed Design

Built around a converting framework to match your practice image and corporate colours

About You

Introduce your staff, products and services with photos, bios, service description and product demonstrations

No limit to page numbers

We will guide you to map your site to ensure you have all the pages you need without the site becoming unnavigable

Extensive Library of Expert Content

Choose from pre written articles on a range of eye health and service topics positioning you as local experts

All images sourced and licenced for you

We source and include the licence for all brand and optical images used on your site, giving you peace of mind

Lead Capture Forms

Lead capture forms for offers and sign ups to marketing communications are included along with an auto responder set up

Option to Integrate with third party review sites

Do you encourage your happy customers to leave reviews – we can integrate with third party review sites to give your great reviews the visibility they deserve

Integrate with live diary booking system

We are experienced at creating integrations with live diary booking systems

Request an appointment page

If you don't have a live diary system, we can create a request an appointment page to allow patients and prospects to request appointments even when you're closed

Google Map Link

Your site will include a link to google maps on the contact page, showing an accessible map to your practice and allowing patients to find you easily

Brand page

Display your selected brands on a unique page, including brand images and copy for each of your frame ranges

Ability to Incorporate Enhanced Features

Incorporate social media feeds, testimonials, videos and google 360 tours

Easy to Use Content Management

Easy to make simple changes to your website (e.g. add a blog, change your opening hours, add a new member of staff)

Analytics

Google Analytics is included on the site – track visitor numbers and stats on a monthly basis, see where your visitors are coming from and what they are looking at

Five frame Brand Catalogues

Showcase the frame brands you stock in-store with a catalogue that mirrors the full current collection

Option to purchase additional catalogues

Add to your package by purchasing additional catalogues for your website

Frame Search facility

Easy to use search facility, allowing customers to filter on size, sex, material and shape

Frame images

Images for each colour option in a frame style

Frame descriptions

Description of each frame taken from the manufacturers information

Ecommerce designed for Optics

Allow customers to view, select and purchase combinations of frames, glasses, contact lenses and accessories

Guided Lens options based on prescription

Guide your customers towards lens options that will work with their prescription with our intuitive lens module

Safe Prescription Storage

Allow customers to upload new prescriptions, or use a saved prescription

Multiple Payment Gateways

Link with your choice of multiple payment systems e.g. Paypal, SagePay, ApplePay, credit card payment

Reward and subscription programmes

Reward your loyal customers or introduce an easy to use subscription option for contact lens customers

Flexible pricing options

Choose your pricing option e.g. multiplier on supplier list prices, individual entered pricing, different multipliers for different brands etc
Your Journey to Digital Success Starts Here
Transform your Online Presence, Connect with New Patients, Drive New Business and Profit