What exactly is a catalogue website?
A catalogue website acts as an online reference point for all or some of the frame brands you offer in your practice. Potential customers can find you online when they're searching for specific frames. Each individual frame page on your site is indexed by search engines. This allows you to be found by someone looking for specifically for 'Rayban 7017'.
The big problem in the past with catalogue websites has been the time consuming chore of updating them.  OptiCommerce's automatic monthly catalogue updates remove discontinued products and add new releases. The updates include product images for each colour available, along with product descriptions, sizing, gender, material and shape allowing for multiple filtered searches.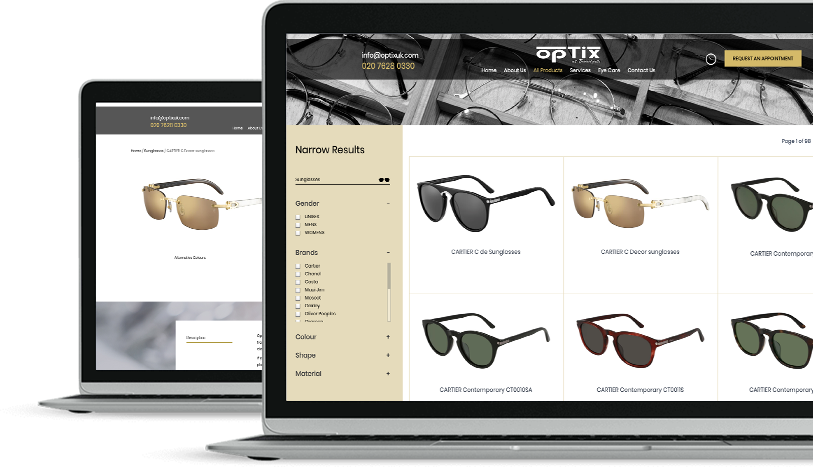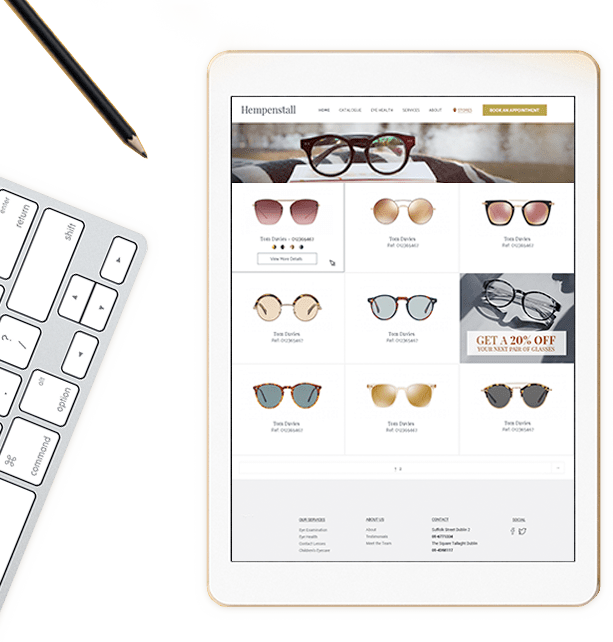 What does a catalogue website include?
Your catalogue website will include 5 frame catalogues, chosen by you. Extra catalogues are available to purchase to increase your online portfolio even further. As well as the frame catalogues your website will showcase your brand and clinical excellence. Prospective patients will be able to understand what makes your practice so special.
Your site can be integrated with an online booking system or use a request an appointment system. You'll have access to a library of expert clinical articles. This creates a valuable resource for patients and prospects looking for information on eye care and eye health. We'll build links to any social media platforms you use. Also included is a link to a google map page to help people locate your business.
Is a catalogue website the right choice for me?
A catalogue site can give you a high level of visibility with people who are searching for specific brands that you offer. Combined with our Virtual Try On add on module it can offer a great interactive experience.
An up to date catalogue can help you place higher on page ranking for google and other search engines when potential customers are searching for 'Rayban Leeds' for example. So if you are looking to build a solid web presence and aiming to be found online, a catalogue website will deliver for you.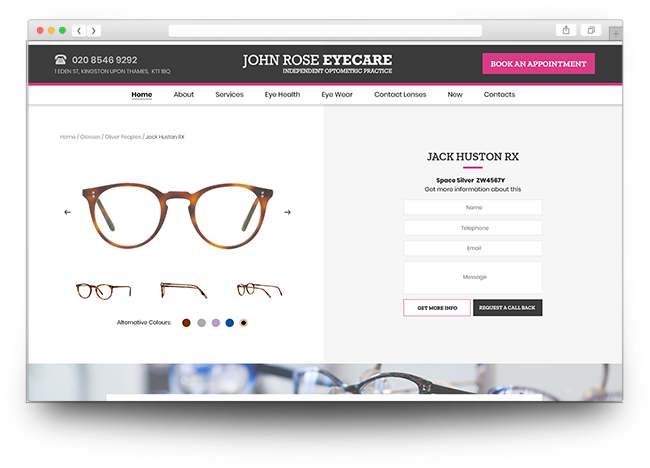 Which Website Solution is Right for You?
From a single practice website to a fully functional eCommerce business – we have the solution to fit YOU
Brochure
Catalogue
Ecommerce

Fully Mobile Optimised

All images and text will resize and reorder to ensure the site loads quickly on mobile and is easy to read and navigate

Optical Themed Design

Built around a converting framework to match your practice image and corporate colours

About You

Introduce your staff, products and services with photos, bios, service description and product demonstrations

No limit to page numbers

We will guide you to map your site to ensure you have all the pages you need without the site becoming unnavigable

Extensive Library of Expert Content

Choose from pre written articles on a range of eye health and service topics positioning you as local experts

All images sourced and licenced for you

We source and include the licence for all brand and optical images used on your site, giving you peace of mind

Lead Capture Forms

Lead capture forms for offers and sign ups to marketing communications are included along with an auto responder set up

Option to Integrate with third party review sites

Do you encourage your happy customers to leave reviews – we can integrate with third party review sites to give your great reviews the visibility they deserve

Integrate with live diary booking system

We are experienced at creating integrations with live diary booking systems

Request an appointment page

If you don't have a live diary system, we can create a request an appointment page to allow patients and prospects to request appointments even when you're closed

Google Map Link

Your site will include a link to google maps on the contact page, showing an accessible map to your practice and allowing patients to find you easily

Brand page

Display your selected brands on a unique page, including brand images and copy for each of your frame ranges

Ability to Incorporate Enhanced Features

Incorporate social media feeds, testimonials, videos and google 360 tours

Easy to Use Content Management

Easy to make simple changes to your website (e.g. add a blog, change your opening hours, add a new member of staff)

Analytics

Google Analytics is included on the site – track visitor numbers and stats on a monthly basis, see where your visitors are coming from and what they are looking at

Five frame Brand Catalogues

Showcase the frame brands you stock in-store with a catalogue that mirrors the full current collection

Option to purchase additional catalogues

Add to your package by purchasing additional catalogues for your website

Frame Search facility

Easy to use search facility, allowing customers to filter on size, sex, material and shape

Frame images

Images for each colour option in a frame style

Frame descriptions

Description of each frame taken from the manufacturers information

Ecommerce designed for Optics

Allow customers to view, select and purchase combinations of frames, glasses, contact lenses and accessories

Guided Lens options based on prescription

Guide your customers towards lens options that will work with their prescription with our intuitive lens module

Safe Prescription Storage

Allow customers to upload new prescriptions, or use a saved prescription

Multiple Payment Gateways

Link with your choice of multiple payment systems e.g. Paypal, SagePay, ApplePay, credit card payment

Reward and subscription programmes

Reward your loyal customers or introduce an easy to use subscription option for contact lens customers

Flexible pricing options

Choose your pricing option e.g. multiplier on supplier list prices, individual entered pricing, different multipliers for different brands etc
Your Journey to Digital Success Starts Here
Transform your Online Presence, Connect with New Patients, Drive New Business and Profit