What can an eCommerce solution do?
Our eCommerce solution allows you to sell your products online - from contact lenses and sunglasses to full prescription spectacles. Some standout components are its incredible ability to allow you to sell prescription eyewear and contact lenses 24/7, without the need to source or take images of your products and collect and supply product data. In addition, it enables you to be discovered organically on search engines. Making it simpler for you to be found on the likes of Google. 
Our automatically updated frame catalogues allow you to display high quality images, along with up-to-date and accurate information on colours, sizes and materials for many frame ranges. You can choose from our Frames Cloud database of over 700,000 products to display the range of products you stock.
As well as providing a full prescription feature and numerous lens choice options, we can integrate a payment gateway, and offer a number of innovative features to enhance the patient or customer journey, increase sales conversions and provide as close to an in-practice experience as possible.
Whether you've got a physical practice and you're looking to create a new stream of revenue within your website or you're interested in launching a standalone optical store online, we have the eCommerce solution to suit your needs.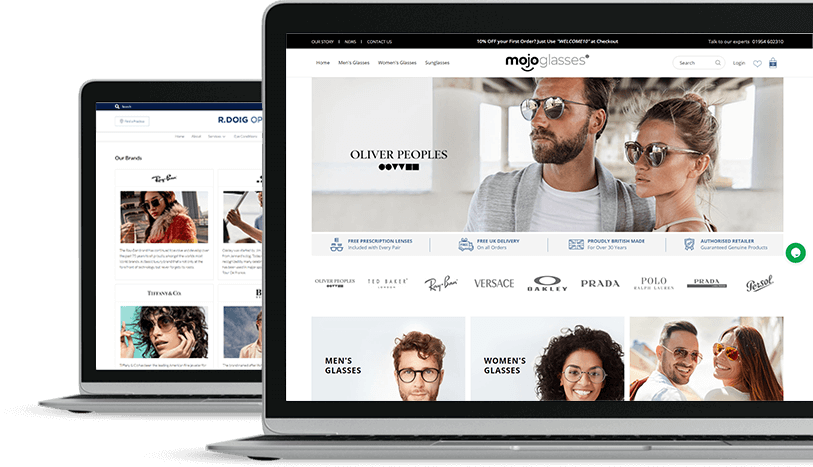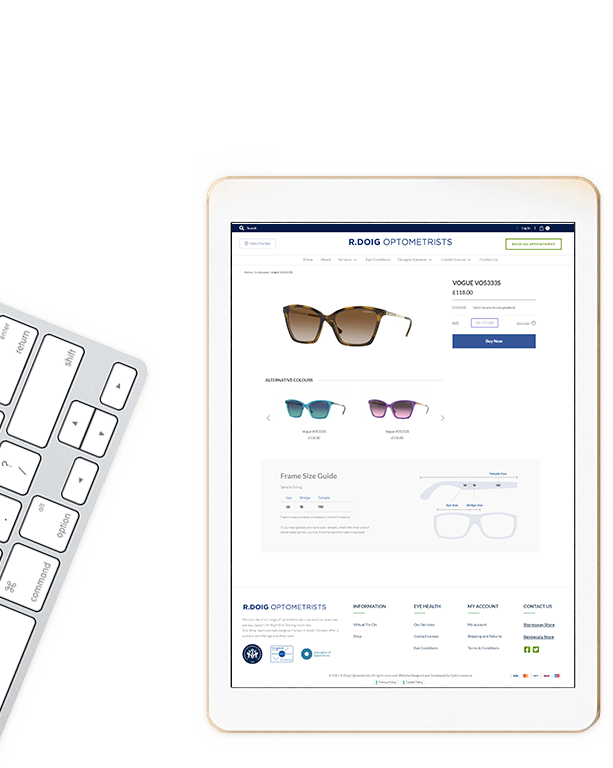 What can an eCommerce website include?
User-friendly design and layout

Full mobile optimisation

Incorporation of your company logo, practice imagery and/or videos, and corporate colours

Range of brands you stock

Patient testimonials module

Live booking or request an appointment

Links to your social media platforms

Google map location to help locate your business
5 frame catalogues with stock and image updates (extra catalogues are available for purchase to increase your portfolio further)

Web pages are fully indexed for SEO

Full prescription module including an Advanced RX module for Rx glasses and sunglasses.

Payment gateway

3D Virtual Try-On

Virtual Consult

PD Master
Is an eCommerce solution the right fit for you?
Are you looking to design a new website or overhaul your existing practice website, to enhance your ability to be found online and create a new stream of online revenue for your practice? Or perhaps you're interested in launching a standalone optical store online?
Our eCommerce solution gives you the opportunity to:
Showcase your full range of products to a global audience.

Attract new and existing patients or customers to your website to learn about your products and/or services and generate new business.

Ring-fence your current patient or customer base through repeat online orders.

Position your business as a local eyecare expert and/or a global optical retailer.

Open your business to 24/7 sales opportunities.

Provide a safer alternative to order optical products throughout the pandemic.
If these business outcomes align with your desired goals then our eCommerce solution is the perfect fit for you!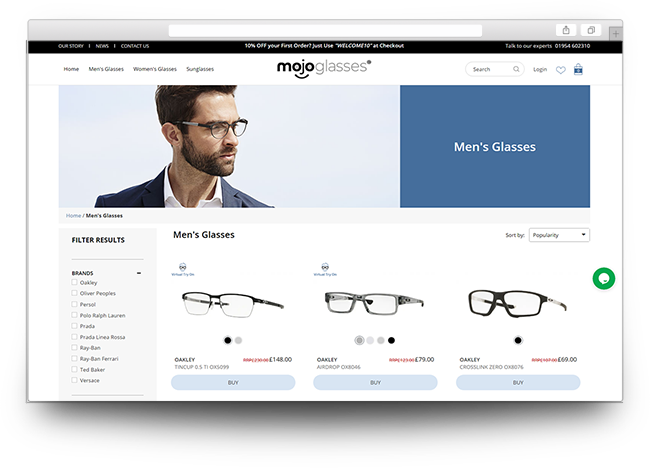 Your journey to digital success starts here
Enhance your online presence, connect with patients, drive new business and profit