OmniChannel for Opticians: What does it mean and do your patients want it?
'OmniChannel' sounds like just another marketing buzzword. So how can this new way of communicating with your customers revolutionise the way you do business?
Simply put, this strategy links all your online and offline communication channels. Your website, social media, pay-per-click ads, newsletters, PMS and your practice itself become one seamless patient experience. It's an approach that puts the customer rather than the product first, thereby increasing engagement and potential for sales.
So how does this work from a customer's perspective?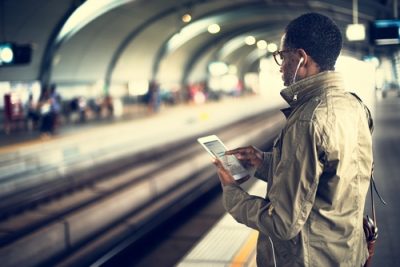 Browsing social media on the morning commute and you realise you're having to zoom in on everything before you can read it properly. It's definitely time to book that eye test you've been putting off. Zooming in again(!), you do a quick Google search for opticians in the area. The first link takes you to a mobile-responsive website for My Local Optician. Due to their search engine optimised copy, they're right at the top of the Google results.
On the website you click the button to 'book now'. You're just coming up to your stop though, so click off again, deciding to sort it out later.
Over the next couple of days, you notice My Local Optician adverts when you're browsing online. The first couple of times you ignore them. The third time, you're at your desk, with your diary to hand, you've just increased the magnification on your screen and it REALLY is time to make that appointment.
You click the on the advert, and it takes you to the website you viewed on your phone the other day. It's just as easy to navigate on your desktop and a couple of clicks takes you to an online diary where you book an appointment.
The next day a friendly person from My Local Optician calls you. They explain about the different types of eye examinations you can have. You decide to pay for a comprehensive exam – after all, you have a family history of glaucoma. They also suggest that you might want to have a look at some of the frames on the website before you come to your appointment. Apparently there's a fun tool where you can try on glasses virtually!
Two days before the appointment you get an SMS reminder about your appointment. There's even a 10% discount code off designer frames when you visit the practice.
A follow up email confirms the discount and suggests you browse the online catalogue ahead of your visit. You scroll through the brands and use Virtual Try On (VTO) technology to see how the designer frames fit your face shape and style. You create a wish list on the site, so you don't forget which ones are your favourites. You'd not really thought about what frames you might be able to buy, but now you're excited to see the ones you've liked in real life.
When you arrive for your eye test, you see some of the frames you tried on virtually. They look just as good as they did in the VTO and you've got a discount! 
That evening you get a follow up SMS, thanking you for visiting and a request to review your experience. You give a five-star review.
As a satisfied customer you receive a mailer in the post to refer a friend in return for a discount off your next visit.
Seamless customer journeys
All the communication described above is tailored to the individual patient experience. Each piece of communication shares useful information, opens opportunities to upsell services and builds brand loyalty.
But despite its benefits, OmniChannel for opticians can be demanding. Not only does it require advanced technological capabilities to sync up all your communication channels – e.g. your online booking to SMS messaging, your website catalogue to in-practice style consultations. It also requires absolute brand consistency across multiple marketing platforms. This applies to both the look and tone of your communications. For example, your responsive website design should have a similar colour palette to your practice, your social media posts should echo the tone of voice, your employees' use in practice
So how might you begin?
Your first step is to establish a website to highlight your services, range of eyewear and clinical expertise. This platform acts as a digital practice branch and a pivot point for all your communications.  You will be able to connect up WebDiary booking services, social media communications and eCommerce opportunities.
Additional website features can boost potential for sales. For example, a regularly updated blog educating your patients on eye health and the latest frames should include direct calls to action to book services and keep customers coming back to your website for expertise. VTO technology also encourages customers to visit the practice to try on frames in person.
Whilst it might seem overwhelming initially, OmniChannel marketing simply uses technology to continue to deliver the type of excellent customer service that you and your practice are already known for. When you put together promotions, or send out communications, think about how all your customer interactions fit together and embrace each new technology as an additional way to create better relationships and deliver what your patients really need – amazing eyecare.