Marketing messages are most effective when communicated directly to the customer – and where better to reach them than their inbox?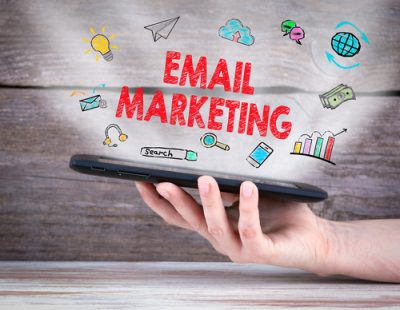 99% of Britons check their email every day* and 59%** of marketers claim that email marketing campaigns represent their biggest return of investment. It's a cost effective solution that targets your patients in a highly personalized way.
So what are the main benefits of email marketing?
• Reach
There's no digital marketing channel with a larger reach than email. Almost everybody who uses the Internet has an email address (the vast majority of users check their inbox every day). This makes email marketing an excellent avenue for reaching huge numbers of existing and potential customers.
• Credibility
Unlike social media, email is primarily a professional medium. An informative email newsletter that lands directly in a customer's inbox can help grow your reputation as a business committed to sharing useful content. In fact, 72% of people say they prefer to receive promotional content via email, compared to 17% who prefer social media. And with slick templates, email communication gives you the opportunity to present your practice as professional and modern.
• Boost Seasonal Sales
Email is a great opportunity to promote exclusive discounts or to tell your patients about the premium services you offer. You can tap into the changing seasons (e.g. skiing goggles in winter, kids' eye health in exam season, sunglasses in summer, etc.) to push relevant services when your customers need them most. This personal approach results in commercial success, with email marketing yielding an average 3,800% ROI for businesses+.
• Driving Web Traffic
Email copy should include contact information and links to your website, inviting patients through the door of your digital practice and reminding them of all the great services you have to offer. In this way, a well-timed email can prompt readers to book an appointment online or browse the latest collection of designer frames via your online catalogue.
• Strengthening Relationships
By maintaining regular communication with your customers via an email newsletter, your optician practice will remain front-of-mind when the time comes for them to book an appointment. New GDPR regulation means that your email communications only reach customers who are interested in hearing from you. You can utilize this ready-to-be-engaged audience by promoting relevant services throughout the year.
• Visibility
Billboards are tied to location, TV ads are tied to channel, print ads are tied to newspaper, but almost all consumers read their emails every day. Email marketing is a fantastic way to reach your patients wherever they are, whatever the time, using whatever device.
In short, email marketing campaigns can boost sales, widen your customer base, educate your patients and increase patient loyalty. Make sure you consider email marketing as part of the overall marketing strategy for your practice!
To learn more about integrated marketing strategies specifically designed for opticians, book your FREE place at one of our 2019 Marketing Workshops. With dates in London, Manchester, Glasgow, Dublin, Cardiff and Birmingham, there's bound to be one near you. Click here to book your FREE place now. 
*Consumer Email Tracker 2017: The Direct Marketing Association
** BtoB Magazine
^ Marketing Sherpa Benchmark report 2013
+ DMA National Client Email Report 2015