When your patients want to book an eye examination, find out about symptoms of common eye conditions or learn about the latest eyewear trends, it's highly likely that their first port-of-call will be the world wide web. Using their laptops, smartphones and tablets they'll be searching for answers online.  But you don't want them looking just anywhere for eye-related advice, you want them to come to you.
Which is where content marketing comes in.
Content marketing is defined as "using original content you've created that informs, entertains and engages your patients as a priority before it promotes to them."  This approach makes your patients feel valued and informed – a feeling that often leads to repeat custom.
Having a content marketing strategy for 2017 will enable you to:
Increase traffic to your website
Build loyalty amongst new and existing patients
Engage your patients
And make your practice appear first on Google searches
Here's how…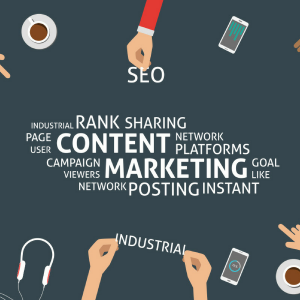 OptiCommerce/Click Optical – Marketing and Website agency for independent opticians
Increase Website Traffic
Firstly, it goes without saying nowadays that the more people that visit your online practice, the more people will visit your physical practice, and by using a marketing agency for independent opticians you can boost traffic to your website.  Sharing links on, for example, Facebook, LinkedIn or Twitter can increase the likelihood of potential patients clicking through to your website, whilst blog posts encourage niche groups to engage.
Build Brand Loyalty
Content marketing is an excellent way to build loyalty amongst your patients by informing, educating and entertaining them.  This can be achieved by writing a variety of copy on subjects such as eye conditions and the symptoms to look out for, your children's visual health for example, and the latest eyewear trends.  In this way, you can position your practice as the go-to online resource for eye-related advice and guarantee your patients come back to your website time and time again.
Engage With Your Patients
Many independent opticians pride themselves on their excellent clinical knowledge, but many overlook the way this information is communicated online.  By issuing entertaining video content, informative blogs or engaging Facebook posts you can keep your patients in the loop with the latest in eye care expertise and keep them abreast of the latest eyewear fashion.
Appear First on Google Search
Want to be the first local practice that comes up in search results?  Having a content marketing strategy for optical practice is the most effective way to boost your website up the rankings.  How? When patients search for optical services in your town, they type specific keywords into Google.  Google's search algorithms quickly comb websites for these search terms and bring up the most relevant results.
For example, if patients are searching for 'eye test Harrogate' or 'Ray Ban sunglasses' the websites that have high quality engaging content featuring these key terms will come up higher in the rankings.  Which is why a regularly updated blog that features these key terms will ultimately draw patients to your practice online.
So if you're looking for a specialist marketing agency for independent opticians and optical businesses to manage your content marketing strategy, look no further than OptiCommerce.  We work with over 200 independent opticians across the UK and have many years of experience growing their practices online.  If you're interested in discussing how content marketing could help grow your practice, give us a ring on 020 3384 4242 or contact us online.